Film Projects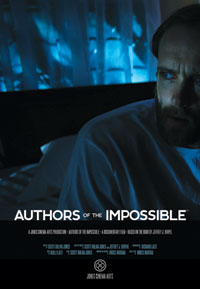 I am very interested in film as an especially appropriate and effective medium for communicating gnostic themes, paranormal events, and magical or "super" powers so evident in the history of religions and contemporary popular culture. We are back to Plato's cave, this time as the local movie theater.
I explored these ideas for four years at Esalen under the sponsorship of the Center for Theory and Research. There I hosted an annual symposium affectionately entitled "The Super Symposium" that sought to bring together "the supernormal" of the psychical research tradition and "the superpower" of American popular culture. On a more practical level, it brought together major figures from four professional areas: (1) historians of religion who work on the subjects of mythology or mystical literature; (2) scholars, professional collectors, and historians who have written on comic book culture and its social history; (3) artists, writers, and leaders from the New York comic book industry and Hollywood, that is, those who have imagined the superpower in text and image and on screen; and (4) major figures from the human potential movement who have written on the related subjects of evolutionary metaphysics, the mysticism of science, and psychical research, that is, those who have explored the supernormal as a real and realizable human potential. We were particularly interested in the question of how to more accurately portray supernormal phenomena and the altered states of consciousness and energy that so often accompany them on film, in art, and—perhaps most difficult of all—in public scholarship.
Both my Authors of the Impossible and Mutants and Mystics emerged partly, or largely, from these four symposia and the extraordinary individuals who attended them. Two of my books have been optioned by Houston filmmaker Scott Jones toward this same end and, again, out of these same symposia: Esalen and Authors of the Impossible. Scott makes gorgeous films, and these two feature documentaries promise to be quite extraordinary. For full discussions of both film projects, plus links to numerous related resources, including our virtual radio program called "Impossible Talk," go to: http://jonescinemaarts.com/.